As a successful woman in business, what message are you sending young women by working for the largest tobacco company in the world?
I would hope that I'm letting them know that they shouldn't sit back and wait for someone else to create the change they seek. When I was an undergrad at university back in the days of South African Apartheid, I remember late-night debates about the benefits of trying to spur change from the outside rather than working from within. Would divesting from South Africa weaken the pressure outside organizations could apply? As I advanced in my career, I was often struck by how often outside activists would fight against change agents within a corporation, even when they both wanted the same outcome!
After a career spent encouraging positive change within client organizations, I am now on the inside. I've found it incredibly empowering to have a voice that's so much louder than it would have been had I not joined PMI. I would encourage younger women focused on change-making to, first and foremost, do it and, second, to consider doing it from within.
How would you explain your choice to work in what's been a traditionally male industry?
The advertising industry isn't exactly female-dominated, and I spent much of my career there. When I was considering this position, I didn't really take into account that the industry is dominated by males, although I'll admit that I had a mental image of a lot of stodgy men wearing brown suits and brown shoes. Happily, the people I met while interviewing dispelled that stereotype. I thrive when I'm surrounded by smart, engaged people of all genders, and I certainly have found that at PMI.
There's also a stereotype that the tobacco industry must be in some way antiquated and even sexist. "Mad Men" probably didn't help! The reality is far different. PMI increasingly is being recognized for its efforts in sustainability, inclusiveness, diversity, and gender balance. For the fifth year in a row, we've made CDP's Climate A List for our role as a global leader on climate change, and we've been honored as a Global Top Employer for three years running. We are also incredibly proud to be the first multinational company ever to achieve global EQUAL-SALARY certification. This doesn't mean we're where we need or want to be, but we're heading in the right direction. Today, women make up 35 percent of management roles at PMI, up from 29 percent in 2014. Our next goal is to hit 40 percent globally by 2022 and then to move ever closer to parity beyond that.
Has your safety ever been jeopardized since accepting a role at PMI?
I did have an incident in which I was threatened by someone on social media. This was the only time I have felt at risk in any way, and the company took all the appropriate measures to ensure my safety.
The incident shows how entrenched some people's opinions are on issues related to tobacco. There is a lot of ideology and hate involved. What I hope to see emerge in its place is a dialogue driven by science and focused on those that matter the most: more than 1 billion adult smokers in the world today. That's what matters—not hating the company for being part of the tobacco industry.
You are a two-time brain tumor survivor; how can you work in an industry that produces products known to be cancer causing?
My health history—and that of my father—is a primary reason I took this job. If I could snap my fingers and cause the billion current smokers around the world to quit, I would. While I'm at it, I'd have everyone make better dietary choices and get sufficient sleep and exercise (starting with myself!). Until I'm imbued with those magical powers, I will work my bum off to get current adult smokers to stamp out their last cigarette and quit altogether—or, if they don't, to switch to a better alternative. Is it a perfect solution? No. Is it the best one currently available? For those adult smokers who don't quit, yes, I believe it is.
Have you been discriminated against as the most senior woman within a male-dominated company/industry?
I've spent a lot of my career sitting around tables dominated by men. I don't tolerate discrimination, whether toward me or anyone I work with—and I'm not shy about expressing that. There will always be people who make negative gender-based assumptions, just as there are people who make assumptions based on race, country of origin, weight, appearance, and more. That said, I think most business leaders have come to appreciate the strengths that come from diversity and from traditional "female" attributes such as collaboration and mediation skills.
What was the biggest change from working in the agency world to working for a tobacco company?
The pace—although I think that's at least as much a reflection of my change of geography (New York to Lausanne, Switzerland) as it is my change of career. The agency world is frenetic, especially in New York. I wasn't there physically all the time, but I was there mentally. It's nonstop phone calls, texts, and meetings, plus all sorts of fires to put out. And the hours are crazy. You almost put in an entire workday between workdays. A lot of that is on me—I'm a total NYC workaholic—but it also reflects the unpredictability of the agency world and the constant demands from clients and colleagues. It's incredibly difficult to disengage.
At PMI, there's far less unpredictability. The work is a marathon more than a never-ending series of full-on sprints. And I have the luxury of focusing entirely on one business rather than on many. Plus, Switzerland is an entirely different place. It was total culture shock to realize that businesses actually close in the early evening and that many don't open at all on Sunday. Are you kidding me? I can't get my clothes dry cleaned or Chinese food delivered at 3 a.m. on a Saturday?! The more restrained pace of life can sometimes be frustrating, but, a couple years in, I'm beginning to appreciate its charm. When there's nothing open and when colleagues have made it clear they're unavailable until Monday morning, you have more time to walk and read and think. And, dare I say, actually relax. Anyone who knows me well understands what a change that is!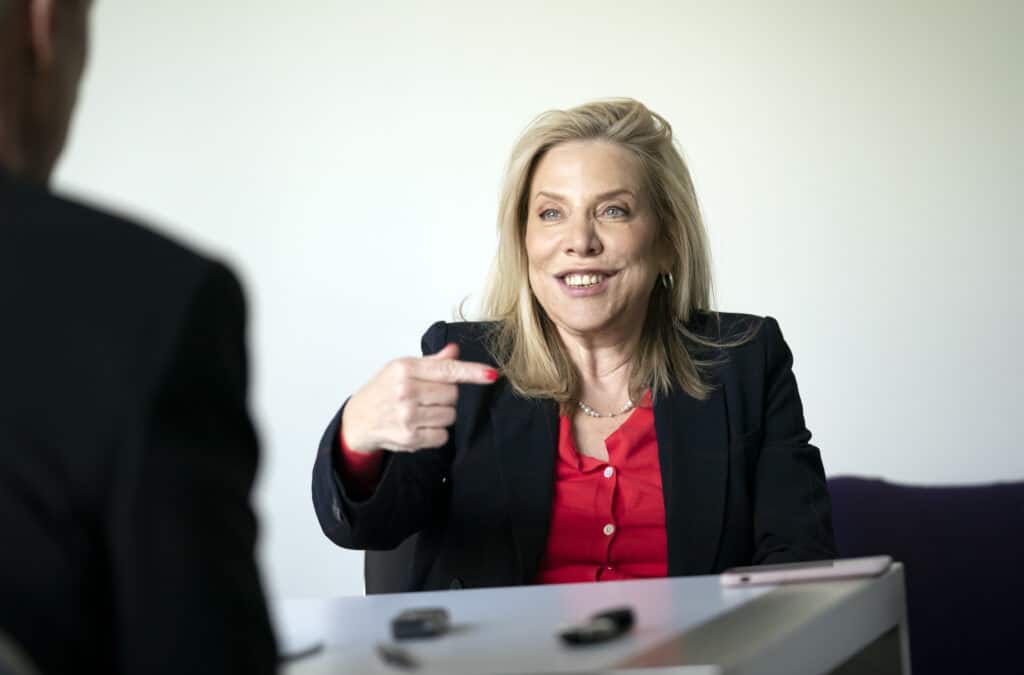 Would you tell your 20-year-old stepchild that it's OK to use an IQOS? How do you differentiate between helping others and hurting them?
If my stepchild smoked and was unwilling to quit: absolutely! If my stepchild wasn't a smoker: not a chance. I don't need to make such distinctions because the entire focus of my job is to help a transformation that enables adult smokers to make better choices. I want current adult smokers to quit cigarettes and nicotine altogether or, if they don't, to switch to a better alternative. My feeling is the same whether it's a total stranger or someone I love.
How can PMI consider itself a tech company when its innovation kills people?
PMI's tech innovations are intended to offer better choices to adult smokers who would otherwise continue smoking. We are drawing on science to invent less harmful alternatives to an existing product. I would like to think that every tech company is seeking to constantly improve its products for its customers in some way.
Isn't PMI just advocating alternatives to supplement its dwindling cigarette sales?
PMI has set its course for a smoke-free future because it's a smart business decision and a vision the company can be proud of—it's the right thing to do.
Throughout your career, you have worked on many important causes; how can you now work for a company that does so much harm?
I am tremendously proud of the work I have done to help make this a better world, both while in advertising and in PR. Closest to my heart are the crisis work my team and I did after the devastating earthquake in Haiti in 2010; the launch of #GivingTuesday; my efforts on behalf of families whose children were murdered at Sandy Hook Elementary School in Connecticut; and my work to improve the lives of wounded veterans and their caregivers. Joining PMI wasn't a diversion from this path—it's a continuation. Were I to combine all the cause-focused work I have done over the years, its impact would never approach the potential I have to help people in my new position. I have an opportunity to be part of a movement aiming to offer better choices to hundreds of millions of adults who smoke all over the world. I take a lot of pride in that.
Do you plan to work in cannabis?
I'm not opposed to the industry, but I am committed to working for PMI, and today's PMI has no plans to enter the business of cannabis.
In the U.S., cannabis has had a significant role in pop culture the way tobacco had in the past. Why is cannabis cool, while tobacco is not anymore?
This is not about being cool. It is about whether product benefits and risks are substantiated by science. I can't speak on behalf of cannabis, but, at PMI, we have very solid science behind our smoke-free products, and we believe strongly that people who smoke should be encouraged to switch if they don't quit nicotine altogether—which is the best option. Tobacco should not be treated the same way when it combusts and when it does not. Smoke-free products should be able to appeal to adult smokers more than cigarettes; otherwise adults who continue to smoke will not make the switch. But that's not about being cool; it's about being sensible.
Is it hard for tobacco companies to find agencies (PR, marketing, lobbyist) to work for you?
This may have been the case in the past, but today things have changed. You'd be surprised by how many agencies actually ask to work with us, although there are certainly some we haven't been able to hire.
For the most part, agencies are attracted by the possibility of playing a role in one of the most radical industry transformations in history. The progress we are making to provide adult smokers with less harmful, science-based alternatives and the public health opportunity they offer are a motivating and interesting challenge for those who work in these industries. Communications professionals recognize that by joining forces with PMI, they can have a genuinely positive impact. At Cannes in 2019, we called on agencies to support a future in which cigarettes are replaced by smoke-free alternatives, and we received a refreshingly positive response. There are still a whole lot of conversations that need to be had, but at least people are starting to engage.