As a successful woman in business, what message are you sending young women by working for the largest tobacco company in the world?
I would hope that I'm letting them know that they shouldn't sit back and wait for someone else to create the change they seek. When I was an undergrad at university back in the days of South African Apartheid, I remember late-night debates about the benefits of trying to spur change from the outside rather than working from within. Would divesting from South Africa weaken the pressure outside organizations could apply? As I advanced in my career, I was often struck by how often outside activists would fight against change agents within a corporation, even when they both wanted the same outcome!
After a career spent encouraging positive change within client organizations, I am now on the inside. I've found it incredibly empowering to have a voice that's so much louder than it would have been had I not joined PMI. I would encourage younger women focused on change-making to, first and foremost, do it and, second, to consider doing it from within.
You are a two-time brain tumor survivor; how can you work in an industry that produces products known to be cancer causing?
My health history—and that of my father—is a primary reason I took this job. If I could snap my fingers and cause the billion current smokers around the world to quit, I would. While I'm at it, I'd have everyone make better dietary choices and get sufficient sleep and exercise (starting with myself!). Until I'm imbued with those magical powers, I will work my bum off to get current adult smokers to stamp out their last cigarette and quit altogether—or, if they don't, to switch to a better alternative. Is it a perfect solution? No. Is it the best one currently available? For those adult smokers who don't quit, yes, I believe it is.
What was the biggest change from working in the agency world to working for a tobacco company?
The pace—although I think that's at least as much a reflection of my change of geography (New York to Lausanne, Switzerland) as it is my change of career. The agency world is frenetic, especially in New York. I wasn't there physically all the time, but I was there mentally. It's nonstop phone calls, texts, and meetings, plus all sorts of fires to put out. And the hours are crazy. You almost put in an entire workday between workdays. A lot of that is on me—I'm a total NYC workaholic—but it also reflects the unpredictability of the agency world and the constant demands from clients and colleagues. It's incredibly difficult to disengage.
At PMI, there's far less unpredictability. The work is a marathon more than a never-ending series of full-on sprints. And I have the luxury of focusing entirely on one business rather than on many. Plus, Switzerland is an entirely different place. It was total culture shock to realize that businesses actually close in the early evening and that many don't open at all on Sunday. Are you kidding me? I can't get my clothes dry cleaned or Chinese food delivered at 3 a.m. on a Saturday?! The more restrained pace of life can sometimes be frustrating, but, a couple years in, I'm beginning to appreciate its charm. When there's nothing open and when colleagues have made it clear they're unavailable until Monday morning, you have more time to walk and read and think. And, dare I say, actually relax. Anyone who knows me well understands what a change that is!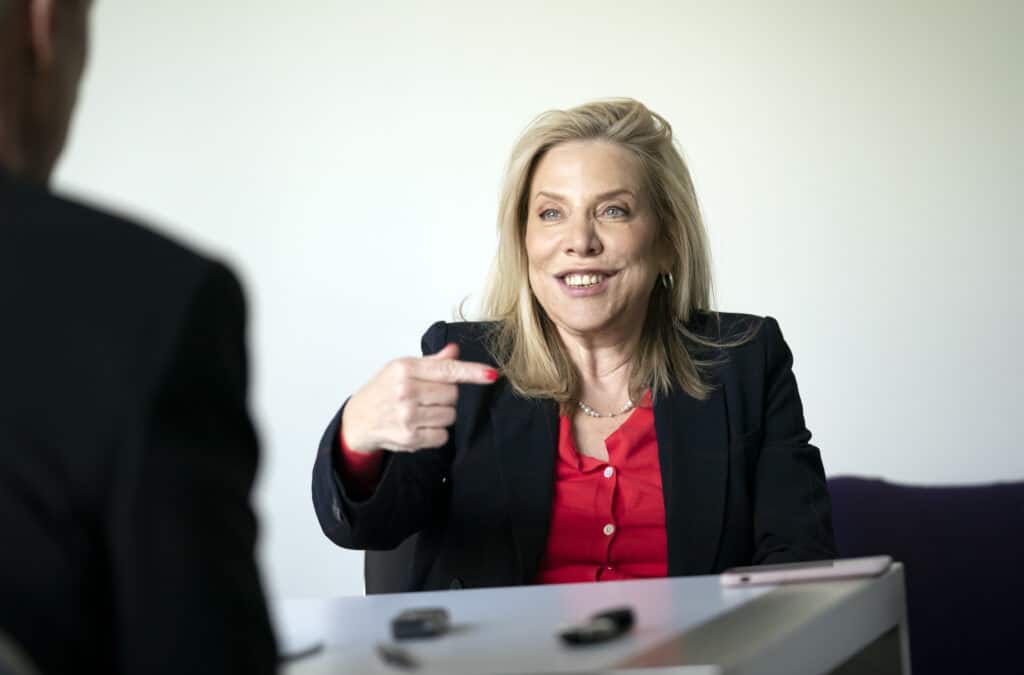 Would you tell your 20-year-old stepchild that it's OK to use an IQOS? How do you differentiate between helping others and hurting them?
If my stepchild smoked and was unwilling to quit: absolutely! If my stepchild wasn't a smoker: not a chance. I don't need to make such distinctions because the entire focus of my job is to help a transformation that enables adult smokers to make better choices. I want current adult smokers to quit cigarettes and nicotine altogether or, if they don't, to switch to a better alternative. My feeling is the same whether it's a total stranger or someone I love.
How can PMI consider itself a tech company when its innovation kills people?
PMI's tech innovations are intended to offer better choices to adult smokers who would otherwise continue smoking. We are drawing on science to invent less harmful alternatives to an existing product. I would like to think that every tech company is seeking to constantly improve its products for its customers in some way.
Isn't PMI just advocating alternatives to supplement its dwindling cigarette sales?
PMI has set its course for a smoke-free future because it's a smart business decision and a vision the company can be proud of—it's the right thing to do.
Throughout your career, you have worked on many important causes; how can you now work for a company that does so much harm?
I am tremendously proud of the work I have done to help make this a better world, both while in advertising and in PR. Closest to my heart are the crisis work my team and I did after the devastating earthquake in Haiti in 2010; the launch of #GivingTuesday; my efforts on behalf of families whose children were murdered at Sandy Hook Elementary School in Connecticut; and my work to improve the lives of wounded veterans and their caregivers. Joining PMI wasn't a diversion from this path—it's a continuation. Were I to combine all the cause-focused work I have done over the years, its impact would never approach the potential I have to help people in my new position. I have an opportunity to be part of a movement aiming to offer better choices to hundreds of millions of adults who smoke all over the world. I take a lot of pride in that.