"Salzman has a brilliant knack for spotting trends before they go mainstream—one commentator dubbed her 'an octane-fueled, 100-ideas-a-minute bunny.' In the flesh, Salzman, a charismatic power blonde (think Carrie Bradshaw mixed with Hillary Clinton) … treads the line between high and low culture. One minute, she's analyzing Middle Eastern politics. (She studied at Brown University where her contemporaries included film director Todd Haynes and novelist Rick Moody. In her book Next, she name-checked Osama bin Laden as a force to be reckoned with.) The next, she's dishing the dirt on J-Lo …"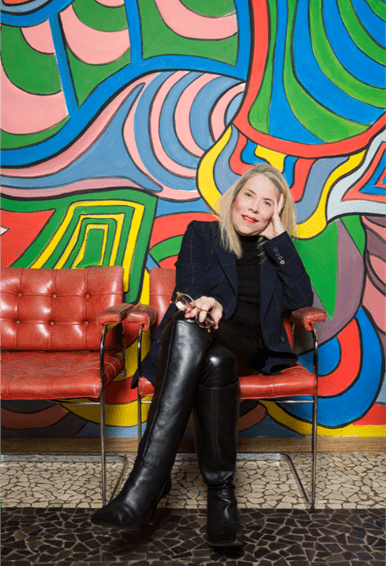 Marian Salzman is considered one of the world's top trendspotters and is among the most-awarded public relations executives. Throughout her career, she has been at the leading edge of the rapid revolution in technology and social change. Nearly three decades ago, she co-founded the first online market research company and remains a go-to source on trends emerging on the social web. In 2003, she introduced the world to "metrosexuality" and was later a driving voice in the concept of local as the new global. In 2019, she identified chaos as the new normal.
Marian was CEO of Havas PR North America for nearly a decade and chaired its global PR assets, known as the PR Collective. In this position, she reshaped the company's creative output, creating one of the most buzzed-about boutique agencies in North America and achieving top-five status at prominent U.S. and global awards shows. Marian also served on the Havas Worldwide general managers group and as co-chair of the company's first international steering committee for its social media assets. In recognition of these efforts, she was named PRWeek's PR Professional of the Year for 2011.
Prior to Havas PR, Marian was the chief marketing officer at both Porter Novelli and JWT Worldwide and the chief strategic officer at Euro RSCG Worldwide (Havas Creative). Her first international assignment was in the 1990s, as the Amsterdam-based lead of TBWA's Department of the Future. Marian was also an entrepreneur, launching American Dialogue (Cyberdialogue) focus groups in cyberspace back in the early 1990s, when the online world was seen as a place for geeks and oddballs. Her business partner then was advertising agency legend Jay Chiat, who appointed her Chiat/Day's first head of emerging media and consumer insights ahead of the company's merger with TBWA International. Among her most famous consumer campaigns were the launch of "metrosexual" to create a marketplace for SABMiller's Peroni, Pepsi's "It's Like This," and "It's America Online."
Among other advertising and PR industry accolades, Marian has been listed in PRWeek's Global Power Book and the Holmes Report's Top Innovators List and was included among Business Insider's 25 Most Powerful PR People. Marian was named a PR News Top Woman in PR, received the She Runs It 2017 Changing the Game Award, and has been inducted into the PRWeek Hall of Femme and Connecticut Women's Hall of Fame.
In 2018, Marian left the advertising industry, moving to Switzerland to embark on her greatest challenge to date: heading global communications at Philip Morris International (PMI) as it continues its transformational journey to build a smoke-free future. In this position, she is charged with accelerating an end to cigarettes.
A sought-after speaker, Marian presents across the globe on topics ranging from cultural trends to branding to generational differences and more. She is the author or co-author of 17 books, including Buzz, the first big business book on buzz marketing, and her latest, Agile PR: Expert Messaging in a Hyper-Connected, Always-on World. Marian is an honors graduate of Brown University.
A two-time survivor of nonmalignant brain tumors, Marian is an ardent advocate for brain health. Her work in this area has included serving on the board of directors of the Bob Woodruff Foundation, created by Bob and Lee Woodruff after the ABC-TV anchor rebounded from a traumatic brain injury sustained while covering the war in Iraq. To date, the foundation has raised more than $40 million and invested in grassroots organizations and programs that are helping veterans reintegrate into their communities. Marian also served for several years as a director of Andrew Yang's Venture for America, including managing PR around his departure from his organization delicately so he could launch his bid for president of the United States.