Zoomsday Predictions
Trends for 2021
November 2020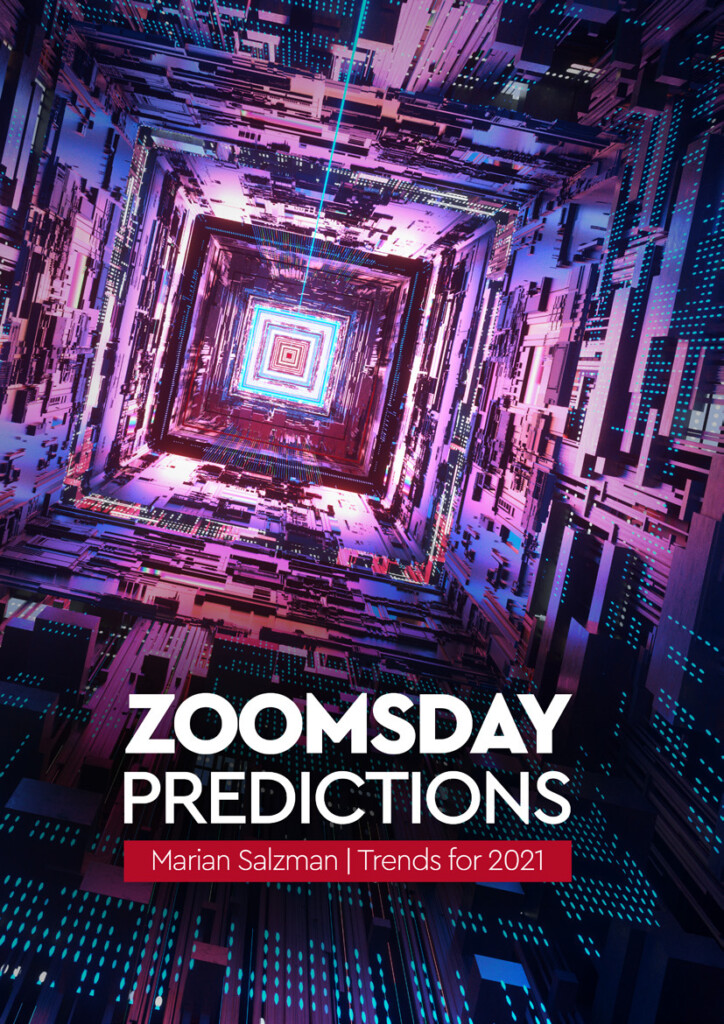 Is 2020 over yet? We have all experienced some lousy years, but this one has upended our lives and tested us in ways we would never have imagined a year ago.
In her annual trends report, Marian explores 11 sightings that promise to influence our life choices and behaviors as we progress into what will ultimately become our next normal. Coming off the "great pause" of the pandemic of 2020, we will be zooming in on our local communities, scrambling long-held notions of time and space, devising ways to reclaim "real" estate from the virtual realm, and making peace with uncertainty. Resilience and adaptation will be the order of the day—and year.
---
Trends Reports Archive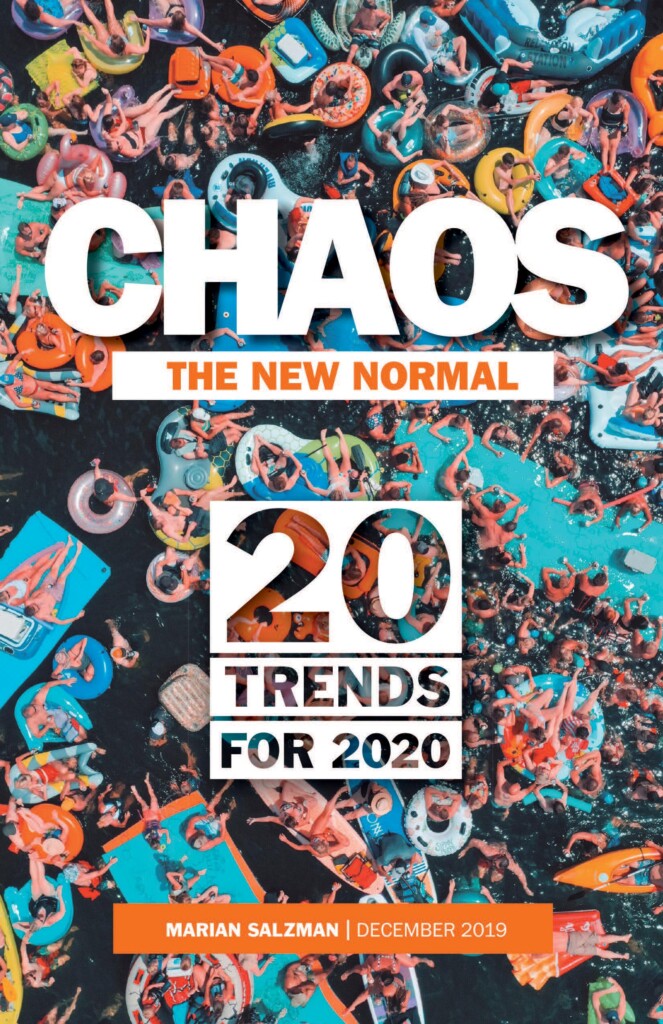 20 Trends for 2020
December 2019

Following a year made frantic by chaos and existential angst, 2020 will be all about ways to inject calm and clarity into a world that can seem to be spinning out of control. In her annual report, Marian explores trends that will emerge or grow in the new year, from our obsession with physical touch and our love-hate relationships with our smart devices to our efforts to protect ourselves from dangers ranging from air pollution and traffic congestion to cybercriminals.
Contact us to request a copy.
---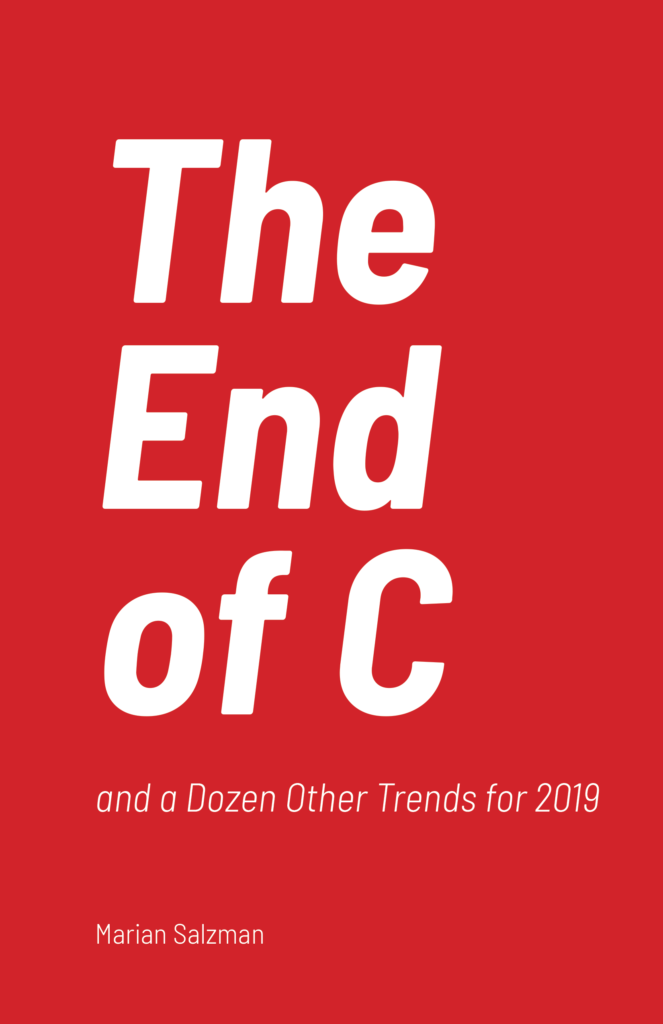 Baker's Dozen of 2019 Trends
December 2018

Marian looks at what's ahead for 2019, led by "The End of C"—citing civility, compromise, constraint and conversation as fast-fading. She finds that the notions of character and decency are quickly becoming relics in today's brash new world. Among her forecasts that look forward but have an emphasis on "looking back" are the wrath of Mother Nature, the at-odds rules of leadership, ageism and the rise of AI.
Contact us to request a copy.
---
The D-Words: On Disruption, Despair and Dumpster Fires—20 Trends for 2018
December 2017

2017 was a bumpy ride, with the disruption of a presidential election that left everyone spinning off in different directions. That's why Havas PR North America's annual trends forecast focuses on that disruption, as well as some other disturbing D-words that will shape the year ahead: "destruction," "depression," "deception," "defiance" and "discontent," to name a handful.

Marian Salzman, world-renowned trendspotter and Havas CEO, explained that rather than attempting to leave the past year behind, the report—titled "The D-Words: On Disruption, Despair and Dumpster Fires—20 Trends for 2018"—offers "an understanding and embrace of how those themes will blossom into shifting behaviors and beliefs that will transform the world in 2018."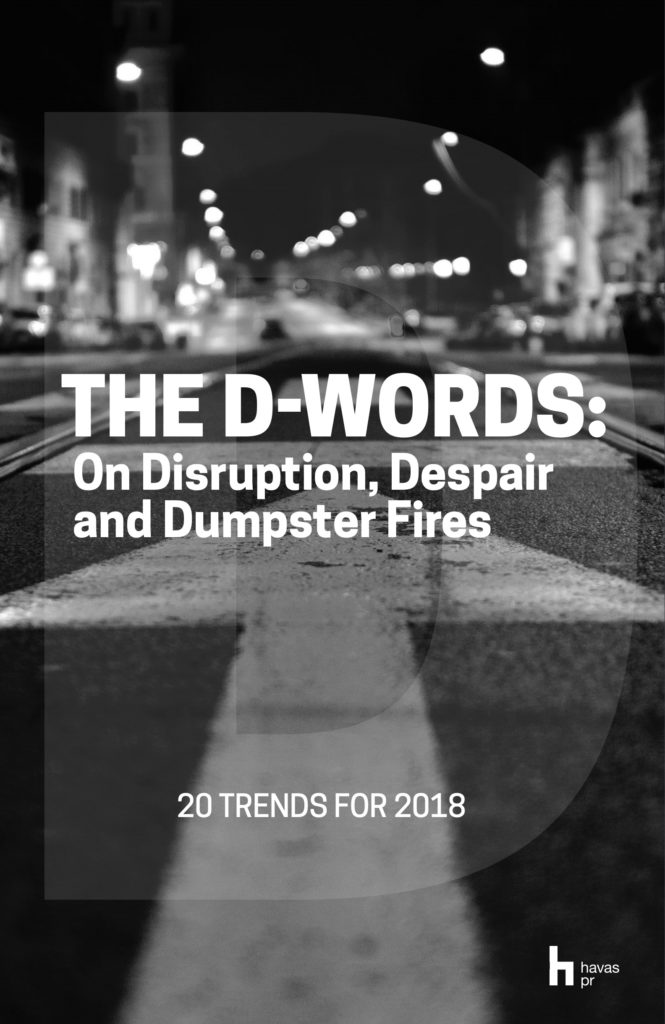 Key themes from the report:
Efficiency, but not at the expense of humanity: Across the globe, anxiety continues to permeate daily life, not least of all because many people are worn down to the emotional nub after so many mass shootings, terrorist attacks, celebrity deaths, natural disasters, rounds of political name-calling, and tales of police brutality. That's why, even within Havas PR's trends on artificial intelligence, gaming at work and social media-bred FOMO, humans' need for real-world connection and warmth prevails, so much so that kindness earned its own trend in this year's report.
This vs. that: Conflict and polarization are rampant. In particular, the agency homes in on the STEM vs. STREAM trend, which once more finds the arts—and literacy—struggling to stake a place of importance among those subjects that promise students a more direct path to employment and prosperity as adults. A tension has also emerged between married and unmarried people over the old-fashioned notion that companionship equates to fulfillment and between couples who have faced infidelity and decided to stay together vs. those who have divorced after cheating. And with more baby boomers sticking around in today's workforce, an old workers vs. young workers battle has begun with cries of "ageism."
Wake-up calls for cities: With suffocating smog causing serious health and logistical problems in major cities around the world; overtourism driving locals in Barcelona, Amsterdam and Venice to the streets to protest; and serious concerns that national politics and governments can no longer deal with the issues facing their citizens, cities are emerging as the most promising entities for effective action.
Click here to download a copy of "The D-Words: On Disruption, Despair and Dumpster Fires—20 Trends for 2018."
---
Blowback to the Future: The Trends That Will Shape 2017
December 2016

As the affluent, the comfortable and the successful have had a ball throwing around, and profiting from, terms like "innovation" and "sharing economy," a massive percentage of the world's population has felt left out and passed over. These same people are starting to suspect that all this fabulous change is coming at their expense. And they're ready to show the people, fixtures and forces they blame what "disruption" is all about. That's why "blowback" is the trend that pierces all others in Havas PR's newly released forecast for next year, "Blowback to the Future: The Trends That Will Shape 2017."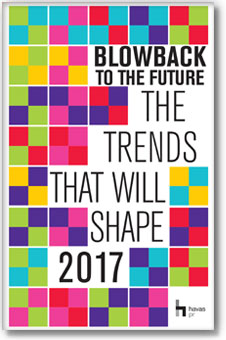 Some blowback will be personal (think: relationships, lifestyle), but a lot will be on a much bigger scale, and it may not always be pretty: People are more energized to act against what they don't want than for what they do want, and that can be seen in our agency's 17 global trends that cover everything from how we'll eat, dress and decorate our homes to how we'll feel about gender, politics and our life and times.
"Several of the trends in this year's report serve as a commentary on the unintended consequences of major events like the Brexit vote and the U.S. election," says world-renowned trendspotter Marian Salzman, author of the report and CEO of Havas PR. "In times of major upheaval, it's all the more important for brands, businesses and organizations, and perhaps even whole societies, to recognize what is happening so that we can respond wisely. The good news is that the prevailing sense of 'enough already' is there to be harnessed by astute commercial, social and political entrepreneurs."

Contact us to request a copy.
---
11 Trends for 2016
December 2015

"This year, we have seen an incredible rise in what Havas PR calls 'localism,' a focus on all things local but with a backdrop of 24/7 global awareness thanks to worldwide connectivity," says Marian Salzman, CEO of Havas PR North America. "But that is just one way we're all trying to manage and control a totally chaotic world. We'll also become more fearful and uneasy about looming threats, whether that's keeping children out of harm's way, tech addiction, climate change or any of hundreds of other worries."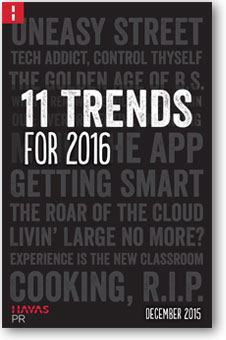 Unease is the übertrend in the 2016 edition of Havas PR's annual trends report. Below are brief descriptions of a few other trends we discuss for the near future:
1. Tech Addict, Control Thyself. The Amish might be right: Tech can draw people apart. Expect to see programs of cyber self-control becoming as common as diets and exercise programs.
2. The Golden Age of B.S. The Internet and social media are democratizing free speech, but facts and truth matter increasingly less in what is being said. It turns out that most people are satisfied with some form of truthiness.
3. What's Renewable Will Be New Again. Many Americans aren't sure how worried to be about climate change, but they'll be inspired to act with consumer-oriented renewable technologies. Look for new areas of tech lust to open up.
Contact us to request a copy.
---
10 Trends for 2015
December 2014

Trends are what fuel the story of the future; they are our hunch about where we believe or hope we're headed. In this year's report, our agency calls out the 10 trends that we think will be key to anticipating what's next, including one übertrend: While Havas' report two years ago noted the coming rise in "co-" words (co-create, co-parent, copreneur), for 2015 our agency is calling out "self-" as the overriding idea.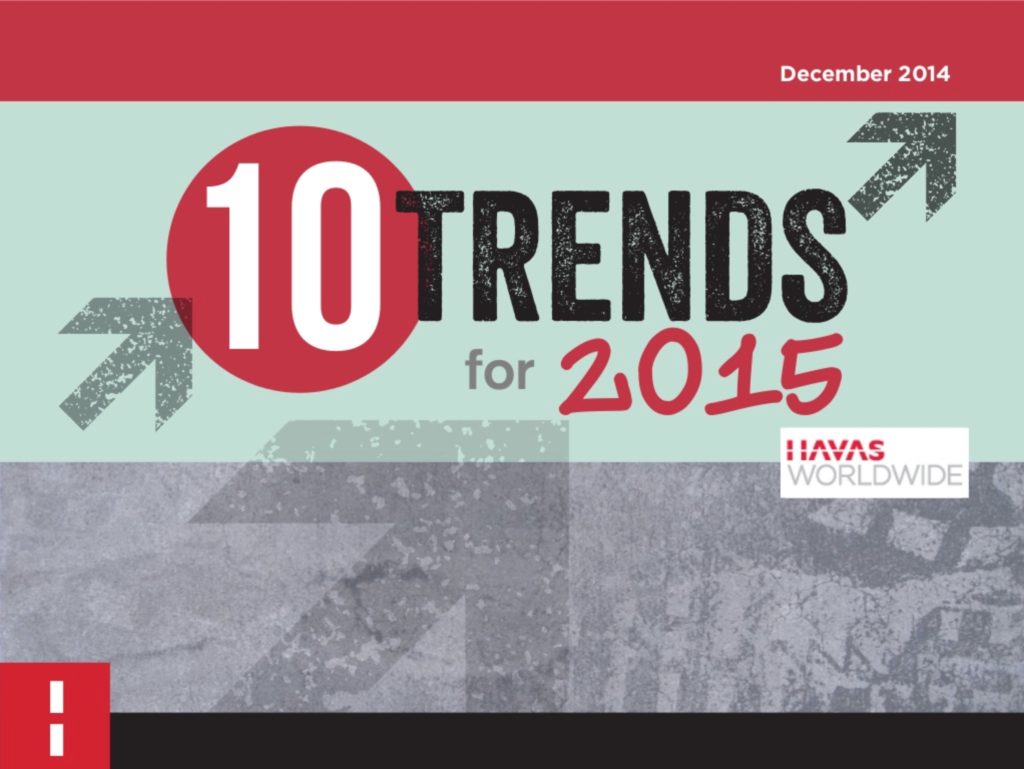 Here is a sneak peek at three other trends:
1. Bugged About Bugs. Natural biological bugs are the bigger threat to emerging countries, but cyberattacks with deliberately engineered digital bugs will worry developed countries.
2. Safe Eating: What's Left? Sugar, soybeans, gluten, salt…Big Food will see its tobacco moment, with greater regulation of and higher taxes on suspect foods and drinks.
3. The Call of What's Wild. The rise of urbanization has led to a craving for "wild" things, from book themes to vacations in rugged spots to the reintroduction of predators in their natural ecosystems. For debt-laden millennials, though, mobile devices (and Occupy?) might need to satisfy those impulses. To access a companion PowerPoint of the trends report, click here.
Contact us to request a copy.
---
14 Trends for 2014
November 2013

As the short-order trend observer becomes ubiquitous, trend master chef Marian Salzman, an award-winning trendspotter of two decades and CEO of Havas PR, provides her unique insights with a penetrating focus in 14 forecasts for 2014. Pope Francis' master branding, boomers rethinking the meaning of life to an unparalleled degree, the age of millennials being truly upon us—it's all in Salzman's annual trends report. Her methodology, pattern recognition, has been responsible for the launch or popularization of trends ranging from singletons and metrosexuality to hyperlocalization.
Here are previews of four predictions from the book:
#Artisanaleverything There's infinite scope for crafted products—more than ever, people are valuing authenticity over mass-produced blandness.
#Innerspace #NewFrontier Scientists are exploring effects of the body's microbiome—and it's becoming a solid approach to tackling myriad health issues.
#MINT #TheNewBRIC Growth in the BRIC countries is stalling; look to a new power group—Mexico, Indonesia, Nigeria and Turkey—to freshen a stale global economy.
#mPOS #ItsWhatsGlobal It has been almost two decades since online banking and e-commerce ascended in popularity—now it's mobile payment systems' turn.
Contact us to request a copy.
---
What's Next?: What to Expect in 2013
November 2012

An aggregation of public and private forecasts from world-renowned trendspotter Marian Salzman, CEO of Havas PR North America, and her team, What's Next contains more than 150 predictions in 30 categories for 2013. The methodology Salzman employs—pattern recognition—has launched or popularized trends ranging from singletons and metrosexuality to food fear and globesity.
Here are previews of three predictions from the book:
For Education: Watch for a rethink on ages and education: an end of higher education at 18—and the beginning of life apprenticeships that take people from 19 to 29 and prepare them for lifelong reinvention. People will delay entering the workforce by staying in school, taking nonpaying internships or seasonal work, and using life as a classroom.
For Home Life: The recent couch-surfing fad has given birth to a bona fide trend as a business model: Airbnb. Although no hotel chains are probably feeling the pinch from the success of local hosting in every city and town planetwide, this exchange program for adults is sizzling, and it marries two mini trends: Earn cash at home and collect experiences.
For Tomorrow's Money: Gift cards and PreCash cards seem to be overtaking stores as we become more comfortable giving people prepaid shopping as a thank you or to celebrate a milestone.
Contact us to request a copy.
---
The Big Little Book of Nexts: Trendspotting for 2012
November 2011

What will make the world tick in 2012? And might that ticking sound more like a patient, plodding grandfather clock or a time bomb? According to Marian Salzman, it depends on whom you ask. Salzman, CEO of Euro RSCG Worldwide PR, North America, and one of the top five trendspotters in the world, digs deep to look for social patterns, then applies everything to where the future is headed, in cultural, political, technological and economic matters. For 2012, Salzman has created her biggest annual trends report ever, with more than 150 trends sighted in 32 categories, from Asia and Modern Life to Color and Grooming.
Here is just a peek at what's in this year's report:
The U.S. State of Mind. Politics will reach a boiling point with more protests, most likely organized and cross-promoted on social media.
Re-feathering the Empty Nest. Recent college grads, the biggest casualty of the dire job market, look for Mom and Dad to come to the rescue. Likewise, seniors will choose to move in with their grown children.
Double-Dip Frugality. Look for 2012 to be the year of essentials only. Pop-up stores will continue to soothe by offering one-off items without the sticker shock, and brands will look to co-produce products and lines.
Be Private, Be Present. Experiencing full-blown information overload, many will rediscover their need for privacy. We will still expect our leaders and businesses to be transparent, but in our personal lives look for a retreat en masse from TMI.
Contact us to request a copy.